In 1960's PBX phone systems had caused a revolutionary rise in communication technology. It provided businesses to use many interconnected lines instead of separate lines for each extension.
How PBX system functions?
Businesses with many employees are allowed internal calling between extensions and route easily for outgoing calls. This is a cost-effective solution to daily productivity linked with communication and their operation.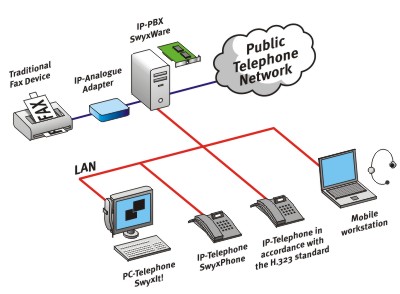 Components
Avaya PBX
system is simple and designed to replicate same process used by telephone companies that is to exchange and connect calls, but within the company's in-network area or on-premises.
Necessary components to purchase
Exchange – A big switching station, which connects and routes the internal and external calls. The unit size will depend on the number of lines to be included. PBX system is the brain, where bulk of software, equipment and expenditure are concentrated.
Handsets –
These are specialized units designed with functions that are available with majority of
PBX system
. Handsets allow users to connect outgoing lines, dial internal extensions, use intercom and paging features as well as access other handy features from within the system.
Gateway – Gateway of PBX system connects internal network to external world. It routes calls from exchange unit to PSTN lines. PBX system gateway is responsible to connect internal extension to external lines for successful call completion.
Current trend
IP-PBX
system handles voice signals using internet protocol. It successfully unites computer and telephone and is called CTI or computer telephone integration. An IP system is capable to subsist as physical hardware and can even perform call routing PBX activities as software or virtually. This version is popular as 'Soft PBX'.
How IP system works?
An IP system includes SIP phone/s, IP server and VoIP gateway (optional) to connect with existing PSTN lines. SIP soft phones are registered with IP server. The IP system includes contact numbers of phone users and their analogous SIP address. Thus, they capably connect internal calls or route outgoing calls using VoIP gateway or VoIP service provider.
Benefits of IP phone system
An IP system is software based and includes easy to use interface, so it is easy to install and configure but a proprietary telephone system needs a trained installer of that specific system.
GUI or web based interface allows to maintain and modify the IP system easily. Proprietary phone systems interface are designed to be handled by phone technicians, only.
Engaging VoIP service provider allows significant saving on international calls. Free calls can be made between branch offices located in separate regions.
IP telephony system connects hardware IP phones to computer network port directly. In addition, you can install software phones directly on your PC. Thus the need of phone wiring gets eliminated as well as moving and adding extension becomes easy.
IP system is based on open SIP standard that is compatible with any kind of SIP software or hardware, Proprietary phone system is only compatible with proprietary phones and extension modules.
Proprietary systems are expensive to add more lines/extensions and they can outgrow easily in some cases. Alternatively, in IP system, a computer is capable to tackle hundreds of phone lines/extensions.
IP system allows supplying better customer service and enhancing productivity. As IP system is computer based, you can incorporate phone functions with business apps.
With IP telephone system, the user just takes the phone to a new desk without any need of patching.
Investing in IP telephony system is sensible not just for new businesses but for companies already possessing a PBX system. Upgrading is the obvious choice because IP system delivers significant savings in terms of management, call costs and maintenance.